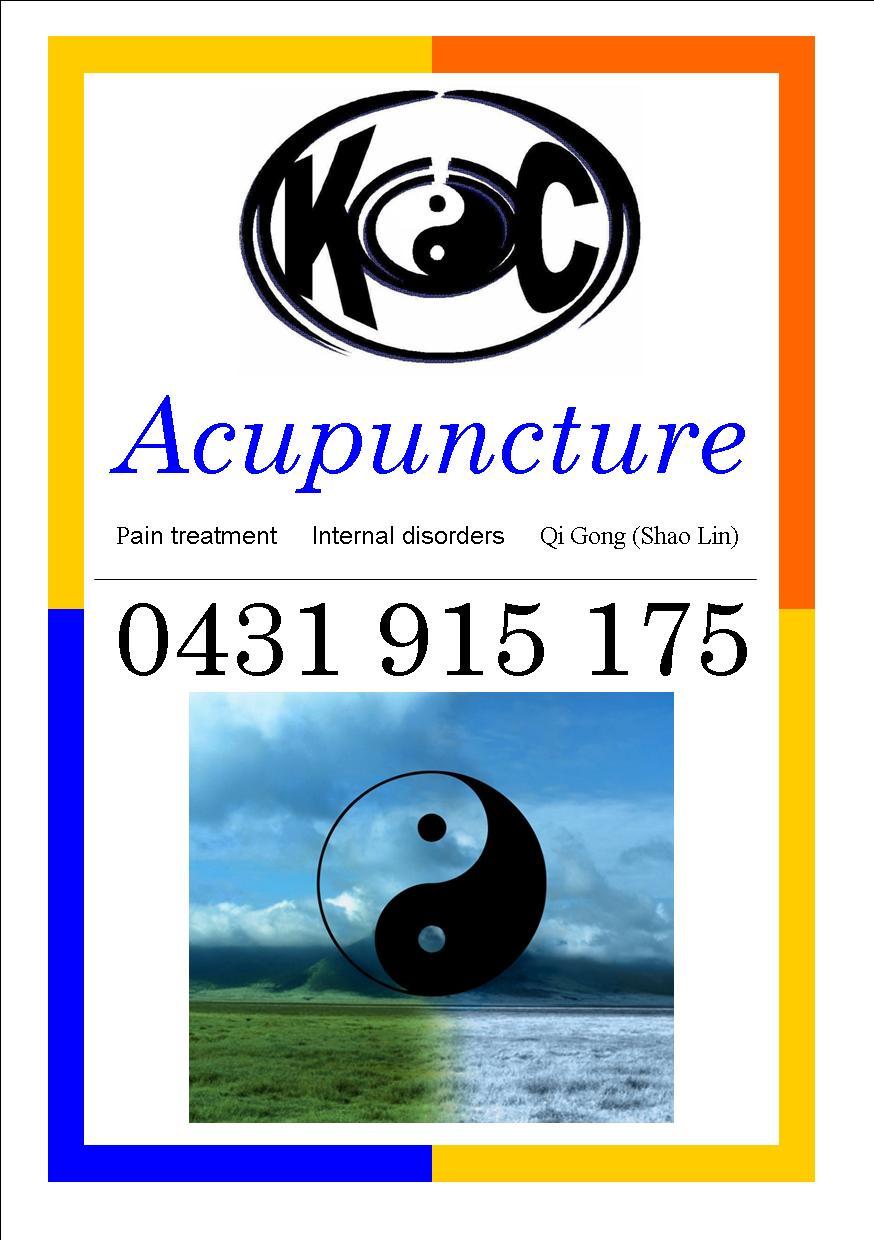 Do you want to have a Great Health?
K C ACUPUNCTURE is your choice
Acupuncture & Chinese Herbal Medicine in
37A Victoria Street, Forestville, SA 5035 &

1 Mary Ave., Normanville SA 5204

Dr. K. C. Herman Lum ( Doctor of Chinese Medicine ) is a Registered
Chinese Medicine practitioner, he has trained and practiced acupuncture
and Chinese herbal medicine in Taiwan, Hong Kong, China and now is
practicing in South Australia since 2006.
He develops an unique efficacy technique to dealing with difficulty internal or
external disorders (e.g. unusual feeling of extremity, bulging disc,
Hyperplasia of Mammary Glands, Prostate Gland Enlargement etc.) &
pain management for sport injury recovery, acute & chronic soft tissue
trauma, and unknown reasons limbs paralysis, fibromyalgia, Sinusitis,
Hyperthyroidism, Stroke, Spinal core injury and many more.
He will use the unique skill and effective methods (including Zhu's Scalp
Acupuncture, Japanese painless acupuncture to help you, which cannot

be beaten by the conservative methods.
Did you know? Traditional Chinese Herbal Medicine and
Acupuncture can help you to improve YOUR quality of life and release many
diseases symptoms. In 2003, World Health Organization
(WHO) recognized Chinese Medicine as an individual medical system other

than Western medicine.
Acupuncture & Chinese Herbal Medicine to Support Cancer Care
Did you know?
Researches in China, Australia, etc. evident that Chinese herbs can anti-cancer, minimize post-metastasis, enhance immune functions, improve energy, relieve cancer pain, fatigue, constipation and diarrhoea; and can address insomnia, poor appetite as well.

The National Institutes of Health Consensus Development
Conference in 1997 declared that there is clear evidence that
acupuncture is an effective modality, particularly for nausea and
vomiting induced by chemotherapy, and for the relief of pain.
The American Cancer Society informs consumers that,
"Acupuncture is simple, and often works. It has few side effects
or complications, and the cost is low. For these reasons, it can be
a good choice for some problems.
As cancer with radiation and chemotherapy-induced leukocytopenia,

acupuncture and moxibustion increased the leukocyte count. If patients

with persistent leukopenia, stimulation of the acupoint led to an increased

white blood cell count. The immune modulatory effects of acupuncture upon
patients undergoing chemotherapy and radiation are proved Macrophage

activity is also increased by both acupuncture and moxibustion.
ACUPUNCTURE
& Chinese Herbal Medicine for Relief Of The PAIN
Such As:

Lumbago Scar Tissue, (Neck, Shoulder, Back, Lumbar and Knee Arthritis), Tennis Elbow, recurrent Headache, Soft Tissue (trauma, fibrosis, calcification, etc.), Heel Spur, Deep Venous Thrombosis, Headache
ACUPUNCTURE& Chinese Herbal Medicine for Management of the Symptoms of Internal &External Disorders

Such As:

Stroke Reabilitation
Hyperplasia of Mammary Glands

Herniations (
Bulging disc), Bone Spur
Morning Sickness
Anxiety
Insomnia
Diabetes
Hay Fever
Sinusitis
Heart Disorders
Asthma
Infertility ( including IVF Support)

Fibromyalgia
(Rehabilitation) ACUPUNCTURE & MASSAGE

K C will use the Traditional Chinese Medicines philosophy and Acupuncture technique applied in his massage, which is not only able to relief the muscleskeletal pain, and also can improve the blood and qi (energy) circulations, which will be the beneficial for rehabilitation.